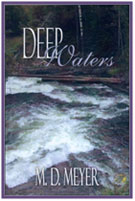 Deep Waters, by M.D. Meyer
Set in the fictional Ojibway community of Rabbit Lake, Deep Waters will transport you into Canada's far north for a compelling story of enduring love and sustaining faith.
"Dorene's writing whisked me off into another world with non-stop action. Right from the first chapter, I knew I would not be able to put down "Deep Waters," and I was right. I laughed and I cried – it was a great escape and I cannot wait for her next piece of work."
Adults
335 pages
Price:$12.00 (includes bonus music CD)
Ordering Instructions: To order any of these resources, please contact us by mail, phone or email. We will ship your order, along with an invoice, which will include shipping charges. Upon receipt of your materials and invoice, please pay with cheque or money order by return mail.